Dr. Philipp Wackerbeck
Associate Fellow of the Institute of Islamic Banking & Insurance London
Publication of the first German-speaking book on basic principles of Islamic Finance together with Michael Gassner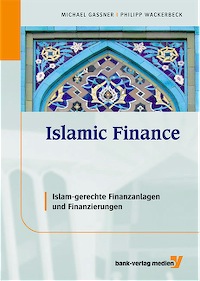 Der Begriff "Islamic Finance" umfasst sämtliche Arten von Finanzgeschäften, die mit den Regeln des Islam, der Scharia, in Einklang stehen. Diese Einschränkungen erhöhen die Anforderungen an die Gestaltung von islamischen Finanzprodukten und auch an die Organisation und das Management. Viele große internationale Finanzdienstleister engagieren sich bereits im islamischen Bankwesen oder Islamic Banking. Grund hierfür ist das beeindruckende Marktpotenzial für Scharia-konforme Finanzdienstleistungen in muslimischen Ländern: ein Markt vonweltweit ca. 1,5 Mrd.Menschen. Für westliche Finanzdienstleister bietet sich damit die Chance, in einem nochweitgehend unerschlossenen Markt ein beachtliches Wachstum zu generieren – insbesondere wenn man berücksichtigt, dass EU-weit 15 Millionen Muslime leben und davon allein in Deutschland 3,2 Millionen. Das Buch beantwortet Fragen wie:
Was bedeutet Islamic Finance überhaupt?
Was kennzeichnet islamische Finanzprodukte?
Worin unterscheiden sie sich von konventionellen Produkten?
Welche prozessualen und organisatorischen Rahmenbedingungen sind zu beachten?
Anhand von Fallbeispielen aus der Praxis zeigen die Autoren, wie das innovative Angebot islamischer Finanzprodukte ein großes Marktpotenzial erschließt. Die Neuerscheinung ist als Grundlagenwerk zu verstehen: Als erste deutschsprachige Publikation gibt sie einen umfassenden Überblick über islamische Finanzdienstleistungen und geht dabei weit über bankbetriebliche und ökonomische Zusammenhänge hinaus.
Doctoral Research Project     
The research is aimed at analyzing the integration of the personal financial planning approach into insurance companies' business models. As the current business model is focussed solely on the sales of an existing product portfolio via an existing portfolio of distribution channels, the financial planning approach is intended to satisfy customers' needs from a holistic perspective. A multi-method empirical research is conducted, consisting of a quantitative survey among 7.500 private housholds in Germany and of a series of qualitative interviews with senior executives of leading financial institutions in Germany and Switzerland. Special attention is drawn on the changing competitive and legal environment of financial services providers as well as on the evaluation of the demand of private housholds for personal financial planning.